Web Project 1 – The West of the Imagination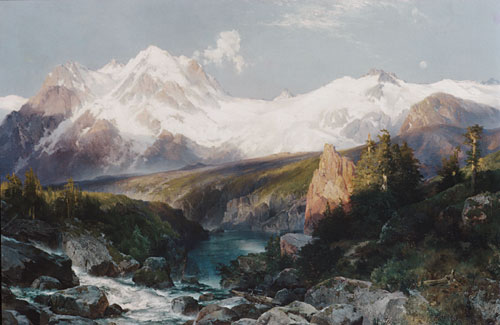 Thomas Moran, The Teton Range (1897)
Oil on canvas, 30 x 45 in. (76.2 x 114.3 cm)
The Metropolitan Museum of Art
For your first web project, you will create a page that presents and interprets an image of the American West from the mid-nineteenth/early twentieth century. By the second half of the nineteenth century America's cultural imperative of progress had pushed us ever westward, "from sea to shining sea." However, did the great expanse of the West represent a new, unspoiled frontier where man would be free from the constraints of civilization or would man confront an isolating, dangerous wilderness? We think of the heroes of the mythic West as solitary figures who faced the wilderness and thrived in it: the mountain man, the cowboy, or the gunslinger. Consider how an artist, making choices about what to portray and how to portray it, constructs a visual narrative of the West. For example, an artist like George Catlin could restore the Native American to dignity, while a photographer like Erwin Smith could make the hard life of a rough-hewn cowboy seem almost lyrical. Other artists, like Thomas Moran (above), might raise the West to transcendent, operatic heights, or, like Frederic Remington, reduce it to a group of tired hunters, surrounded by darkness, gathered around an open fire. Examine your image and think about how the artist or photographer has contributed to, recorded, or even created the "West of the Imagination."
For your first project consider the following:
Begin by finding an image of your work of art. You will need to include in your page the title of your painting or photograph, the date of completion, the artist, the life dates of the artist, the medium (for example, oil on canvas), and the dimensions of the work.
Content! Content! Content! In addition to your image, your page should contain 250 - 300 words of prose. The most attractive website is ineffective if it doesn't provide clear, informative content.
Your page should include:
Description – Most of you have never written about a work of art, but all of you can describe what you see. We'll be talking about this more in class.

Historical Information – Your reader would appreciate some historical context about the subject matter of the work or the artist/ photographer. You must decide what your viewer would find most interesting.

Interpretation – You can give your reader your own interpretation of the work. What do you think the artist wants the viewer to see? Does the artist have a particular point of view toward the subject matter? Is the artist making an argument? You are free here to make any interpretation or associations that you feel are important. There is not a formulaic answer here. We have so many different examples of art and photography to consider.

• In-text parenthetical citations for any material you paraphrase or quote directly.

• An acknowledgement of your sources for the image and any additional research at the bottom of your page, in MLA format, in alphabetical order. See Tips for Citing Electronic Sources in Your Web Projects on our home page.
Feel free to be creative in your presentation of the information. Consider your classmates your audience, that is, someone intelligent and curious, who is not already familiar with the image, and who appreciates clear, direct prose. Your job is both to inform your viewer and to offer an interpretation of the image in a clear and interesting way.
Project Due – Beginning of class – Saturday, February 12

Project Checklist:
Original title for your page
Image, title (paintings & photographs are italicized), artist, year of execution, dimensions
250-300 words of text that include description, historical context, and interpretation
In-text parenthetical citations for all material either paraphrased or directly quoted
Acknowledgement of sources at the bottom of your page in MLA format
Tech checklist:
At least one image
Page name that reflects your project
Link from your menu page to the project and from the project back to the menu page

Paintings
1. Albert Bierstadt, Sunrise, Yosemite Valley, ca. 1871
2. Albert Bierstadt, Giant Redwood Trees of California, 1874
3. Eanger Martin Hennings, Passing By, ca. 1924
4. Eanger Martin Hennings, Afternoon Ride, n.d.
5. Thomas Moran, Cliff Dwellers, 1899
6. Thomas Moran, Grand Canyon of the Yellowstone, 1872
7. Thomas Moran, Mist in Kanab Canyon, Utah, 1892
8. George de Forest Brush, The Moose Chase, 1888
9. Frederic S. Remington, The Blanket Signal, ca. 1896
10. Frederic S. Remington, Fight Over a Waterhole, 1897
11. Frederic S. Remington, The Hunter's Supper, 1909
12. Charles M. Russell, Redman's Wireless, 1916
13. Charles M. Russell, A Dangerous Situation, n.d.
14. Charles M. Russell, Utica (A Quiet Day in Utica), 1907
15. George Catlin, White Cloud, Head Chief of the Iowas, (1844/1845)
16. George Catlin, Wi-Jun-Jon (An Assinneboin Chief), 1844
17. Jules Tavernier, White Man's Weapon, 1880
18. James Bear's Heart, (1851- 1882), Cheyenne Distributing Annuities, ca. 1875-78
19. Oewotoh [Buffalo Meat] (1847–1917), Going in to Trade, 1876
Photographs
20. Darius Kinsey, Ten Horses Hauling 10-Foot in Diam. Spruce Log on Skid Road in WA, 1905
21. Timothy O'Sullivan, Sand Dunes, Carson Desert, 1867
22. Timothy O'Sullivan, Ancient Ruins in the Canyon de Chelle, New Mexico, 1873
23. Carleton Watkins, Grizzly Giant, Mariposa Grove, 33 ft. Diam., 1861
24. Carleton Watkins, Yosemite Valley, from "Best General View," ca. 1865
25. Ansel Adams, Bridal Veil Falls, Yosemite Valley, c. 1927
26. Eadweard Muybridge, Valley of the Yosemite from Union Point, 1872
27. Eadweard Muybridge, The "Heathen Chinese" with pick and rocker, ca. 1868
28. John K. Hillers, Hedipa, a Navajo Woman, ca. 1880
29. John K. Hillers, View in Zuni, Looking Northeast, ca. 1875
30. Edward S. Curtis, The North American Indian, 1906-30
31. Edward S. Curtis, An Oasis in the Bad Lands, 1905
32. Laura Gilpin, Storm from La Bajada, gelatin silver print, 194
33. Erwin E. Smith, Odd Jobs in Camp OR Range, Arizona, 1909.
34. Erwin E. Smith, Cowboys around the Hoodlum Wagon, Spur Ranch, Texas, ca.1910
35. William Henry Jackson, Cañon of the Rio Animas and the Needle Mountains, 1880s.
36. William Henry Jackson, Grand Canyon of the Colorado, 1883
37. William Henry Jackson, Marshall Pass, Westside, 1881
Reproduction of The Teton Range:
Moran, Thomas. The Teton Range. 1897. The Metropolitan Museum of Art. 6 January 2005. <http://www.metmuseum.org>