Back to Spring 2006 Course Page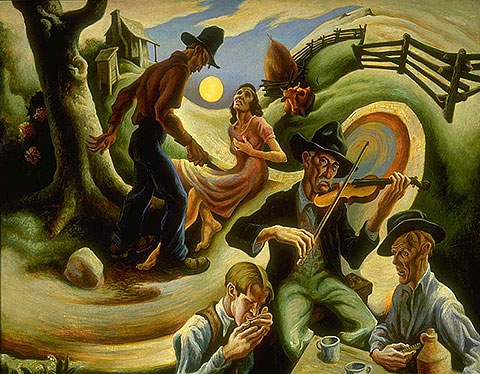 Thomas Hart Benton, The Ballad of the Jealous Lover of Lone Green Valley (1934)
Oil and tempra on canvas, 107.3 x 135.2 cm.
Spencer Museum of Art at the University of Kansas
English Composition Policy Statement
Determination of Composition Grades

Essays:

Essay 1

15%

Essay 2

20%

subtotal

35%
Web Projects:

Web Project 1

15%

Web Project 2

20%

Web Project 3

20%

subtotal

55%
Professionalism:

Attendance

10%

TOTAL:

100%
Determination of Grades
Essays – 35% (Essay 1 – 15%; Essay 2 – 20%)

All essays should be turned in on time. Late papers will be penalized 1/3 letter grade for each day they are late. Any paper turned in after one week will receive an F. Essays must be typed, double-spaced, in a standard 12- point font, and stapled in the left-hand corner. You must complete all written assignments in order to pass the class.

Web Projects –55% (Project 1 – 15%; Project 2 – 20%; Project 3 – 20%)

You will be creating 3 projects in which you will research and interpret a
person, place, event or work of art for publication on the web.

By remaining in the course you acknowledge that your work will be available
online.

Professionalism – 10%

You will be expected to participate in the class in a professional manner, that is, be on time, meet deadlines, collaborate, and pull your load. Professionalism includes all of these as well as regular attendance (see "Attendance" below), willing participation in all facets of classroom life, and sincere effort to improve your own writing and that of your peers.

Attendance
You are expected to attend class regularly and be prepared. We will have a sign-in sheet to record attendance. The sign-in sheet will serve as the official record for attendance. Anyone arriving unexcused after 10 minutes will be considered absent for that day.

Excused absences involve illness or emergency and require some form of official documentation (signed medical excuse, receipt from the doctor, an employer's letter on letterhead, etc.) Religious holidays may also be excused if you submit notice to the instructor in advance of your intention to miss class for this reason.

If you attend all of our classes, you will receive an A as 10% of your final grade. The following penalties apply to the attendance portion of your professionalism grade: 2 absences = B; 3 absences = C-; 4 absences = F.

If you are absent 4 times, you have missed the equivalent of 2 weeks of class time and, we reserve the right to drop you from the course.
Academic Support Services
The Center for Students with DisABILITIES "provides academic support services for all UH students who have any type of health impairment, learning disability, or psychiatric disorder." Students who want to more about these services should consult the Student Handbook or should contact CSD in 307 Student Service Center 713-743-4400 (voice) or 713-743-1527(TDD)
Academic Honesty
In this class, we will function as a community of writers, sharing ideas and critiquing each other's work. According to university and department policy, plagiarism (broadly defined as passing off somebody else's work as your own) constitutes grounds for failure of the assignment in question, possibly failure of the course, or even suspension from the university. See "Academic Honesty," pages 9-13 in the Student Handbook.
Reproduction of The Ballad of the Jealous Lover of Lonesome Green Valley:
Benton, Thomas Hart. The Ballad of the Jealous Lover of Lonesome Green Valley. 1934. Online image. The Spencer Museum of Art at the University of Kansas. 2004. 22 December 2005. <http://www.ku.edu/~sma/collection/europeanamerican/benton.html>