Essay 2 - American Legacies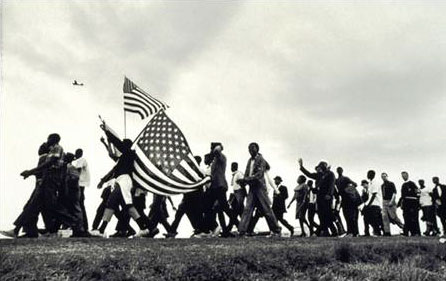 Mark Herron, Marchers from Selma to Montgomery, March 1, 1965
Your second essay will grow out of the work that you are doing for Project 3. You should be able to use much of the same material; however, now you will further develop your topic and construct a formal, argumentative essay. Your web project asked you to inform your viewer about your topic in an interesting, visual format. You will now shift your informative content to accommodate an argumentative purpose.
For your second essay consider the historical legacy of your topic for Project 3, that is, how your topic changed American history, or what effect your topic had on the larger concerns of the late 20th century. Looking back on your topic, how would you assess the difference it made in America's continuing story?

Consider the following outline as a general strategy for your paper:

Introduction
Try to construct an interesting opening for your essay. The link on Our Resources page, Interesting Intros, has several effective strategies for you to consider. Your introduction should contain a clear claim, or thesis, outlining the effect, or legacy, of your topic. Think of completing the thought, "This topic affected American history by . . . ." Or, because of X (insert topic here), Y happened. Or, without X, Y wouldn't have happened.

Paragraphs
Your paragraphs should develop the effects of your topic on history, and the reasons why your topic made a difference for America.

Your reasons should be supported by evidence. For example, if you are arguing that the march from Selma to Montgomery (pictured above) brought more national attention to the Civil Rights movement, your evidence would include pointing to specific examples of how the civil rights movement gained momentum following the march.

Begin each paragraph with a transition that gently leads your reader into the next main point you want to make. The reader should feel the connections between paragraphs.

Conclusion
Your conclusion should have a clear connection to your introduction but should not simply restate it. While the conclusion is not the place for a completely new claim, it can be the place to end your essay forcefully and memorably.

Works Cited
Create a separate Works Cited page in which you acknowledge your sources in alphabetical order in MLA format.

See the link on our home page to The Bedford/St. Martin's Documentation and Resource Home Page
http://www.dianahacker.com/resdoc/. Look at the sample MLA paper and its Works Cited page.

Include a book and a scholarly article in your Works Cited. Ask if you need help here. We will be working on library research on April 16.

Carefully include in-text parenthetical citations for any work that you either quote directly or paraphrase. See the Quoting Smoothly and Paraphrasing links on our home page. Your parenthetical citations should lead your reader to the first word in the Works Cited entry.
Essay due: Wednesday May 4, before 5:00. Put your essays in my hand or in my mailbox in the Writing Center, Room 217.
Last day to turn in essays, with a letter grade penalty: Friday, May 6, before 5:00.
I remind you of the following English Department policy: You must turn in all written work in order to pass the class.
Important:
In order to make an "A" or an "A-"on this essay, you must either have a one-on-one writing consultation with Mike, Nicole, or me, or plan to work in a group workshop on Saturday, April 23, from 1 – 2 for those of you not in ILAS.

You can also visit one of the writing consultants on a walk-in basis in the Writing Center, Agnes Arnold 214, 11 – 2 pm Monday through Friday, or you can make an appointment in advance with a writing consultant by signing up in the black book in Room 217. If you see a writing consultant other than Nicole, staple the completed consultant form to the back of your essay.
Checklist:
Paper typed, double spaced, in standard 12 point font, stapled in the left-hand corner
750 - 1000 words in length
Original title that catches the reader's interest
Introduction with clear thesis statement
Paragraphs that support your thesis
A memorable conclusion
In-text parenthetical citations for material paraphrased or quoted directly
A separate Works Cited page acknowledging sources for text and images in MLA format
Include material from at least one book
Include material from at least one scholarly article found in one of the library databases
2 images as illustration for your argument
Attend a workshop or meet with Mike, Nicole, me, or another writing consultant

Reproduction of Marchers from Selma to Montgomery:
Herron, Mark. Marchers from Selma to Montgomery. March 21, 1965. Online Image. The Lyndon Baines Johnson Library and Museum. 31 March 2005. <http://www.lbjlib.utexas.edu/johnson/Press.hom/weshallovercome.shtm>.