Multicultural America
Fall 2004
English Composition
mcgray2@mail.uh.edu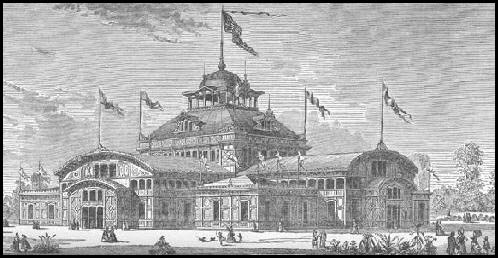 The Women's Pavilion at the Centennial Exposition, Philadelphia, December 1876.

Albumen photograph. Centennial Photographic Co.

The pavilion housed examples of women's achievements from painting to patented inventions.

Multimedia Assignment 3 – American Stories
For your third web project you will be asked to become the historian and tell one of America's stories from the nineteenth century in our visual web format. As we have seen, different historians, all looking at the same evidence, can make different choices regarding what to include and how to construct their narratives. We have also seen how the continuing story of America creates emphasis and erasure, depending on point of view.
Your task will be to take one of the suggested topics and to craft, within our limited parameters, a narrative that explains your topic and informs your viewer. You will have to do the work of any teacher or historian, deciding what to include, what to exclude, and how to tell the story. You should see yourselves as contributors to the national narrative.
For your project consider the following:
A brief overview of your topic.

Primary source material. The historian's first job is to examine the evidence. You have already done this in examining the slave ads and the paintings. Think about what might be considered primary source material related to your topic. Texts? Photographs? Newspapers? Maps?

A timeline in any format you choose, with at least 5 entries.

Biographical sketches, if your project suggests these.

An interpretation of how your topic fits into or affects the larger concerns of nineteenth century America. Try here to make your own leap, from evidence to interpretation, and not to depend entirely on someone else's view.

Think about this assignment as a logical extension of your first two projects which included description, historical context, and interpretation.
You are free here to organize your material in any way you choose. Think about how the story will logically flow, both textually and visually. Always keep in mind your audience, that is, someone intelligent and curious, who is not already familiar with the material, and who appreciates a clear, direct, and interesting presentation.
Checklist:
Original title

Brief overview of topic

Some primary source material (ask if you have trouble here)

At least 3 sources, excluding your images

A timeline in any format with at least 5 entries

Interpretation

Approximately 400 - 500 words of text

In-text parenthetical citations for all material either quoted directly or paraphrased

Acknowledgement of all your sources, both text and image, in MLA format
Tech check:
Page name that reflects the project

Links from your menu page to the project, and from your project back to the menu page

At least 3 images

Alt tags for your images

Link to at least one external website, opening in a new window, giving your viewer more information

Thumbnail of an image
Project due: Saturday, November 20
Topics:
The Early Women's Rights Movement:
Sojourner Truth
The Seneca Falls Conference
Amelia Jenks Bloomer
Elizabeth Cady Stanton & Susan B. Anthony
Julia Ward Howe & Lucy Stone
Utopian Communities:
Brook Farm
Oneida
Fruitlands
Slavery:
Slavery defended
Slavery attacked
The Irish Immigrant Experience
American History through Film:
Hollywood and the Alamo
Hollywood and Slavery
Hollywood and the Old South
Hollywood and the Civil War
Hollywood and 19th Century Indians
Hollywood, Cowboys, and the Old West
Heroes and Villains (e.g. Jesse James, Wyatt Earp)
Pre-Civil War American Popular Culture:
P.T. Barnum
The Minstrel Show
American History through Music:
Stephen Foster and Race
Mexico and the Mexican American Experience:
The Mexican War
Mexican American Responses to Conquest
Who Freed the Slaves?
John Brown: Hero or Terrorist?
The Great Emancipator: Abraham Lincoln in Art and Memory
The Impeachment of Andrew Johnson
African Americans After the Civil War:
African Americans in post-Civil War art, cartoons, and caricature
Sharecropping
Lynching
Science, Exploration & Nature:
Asa Gray
John James Audubon
Major John Wesley Powell
Charles Wilkes and The United States Exploring Expedition
Colonel John C. Fremont
Political Cartoons:
Thomas Nast
Presidential elections depicted in cartoons
The West:
The Donner Party
The Oregon Trail
The Mormon Trail
The Pony Express
The California Gold Rush
The Transcontinental Railroad
The Colt .45
Native Americans:
The Trail of Tears
Asian Americans:
Manjiro (This is one of those fascinating untold stories.)
Chinese contributions to the Transcontinental Railroad
Medicine or something like it:
mental health – nineteenth century
Phrenology
Spiritualism (The Fox Sisters)
Mesmerism
Lydia Pinkham (Ladies, you really should take a look at this.)
Literature:
Emily Dickinson
Walt Whitman
Herman Melville
Harriet Beecher Stowe
Henry David Thoreau
Ralph Waldo Emerson
Frederick Douglass
Louisa May Alcott
America through the Lens:
Matthew Brady
Timothy O'Sullivan
Alexander Gardner
William Henry Jackson
Image of Women's Pavilion reproduced from:
Victorian Ideals of Gender. The Library Company of Philadelphia. 23 October 2004. <http://www.librarycompany.org/HookBook/case3labels.htm>
---